NirSoft Utilities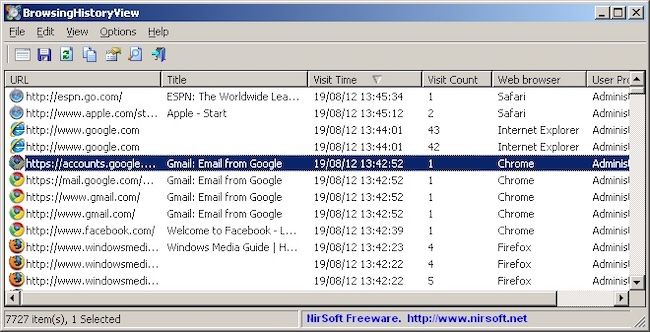 NirSoft is a website that offers free open source digital forensics and cybersecurity software. NirSoft utilities include a variety of free tools that can be helpful in a digital forensics investigation. The tools developed by NirSoft include capabilities that include password recovery, network protocol analyzers, command line utilities and web browser tools.
Browsing History View
Browsing History View is a software that allows forensic investigators to extract and analyze data associated with multiple web browsers. Browsing History View works with Internet Explorer, Google Chrome, Apple Safari and Mozilla Firefox. Browsing History View allows the user to easily view several key metrics such as visited URL's, user profile data, deleted data and much more.
Web Browser Pass View
Web Browser Pass View is another tool developed by NirSoft that allows the user to extract passwords which are stored in web browsers. This tool works with a variety of websites including popular social media sites when passwords are stored in the web browser itself.
MAC Address View
MAC Address View is a tool that allows the user to search for organization details based on a particular MAC address. This tool provides company names, addresses, location and other important details.
NirSoft Utilities Download
This download link has been verified for its authenticity.